Herbal Wisdom Circle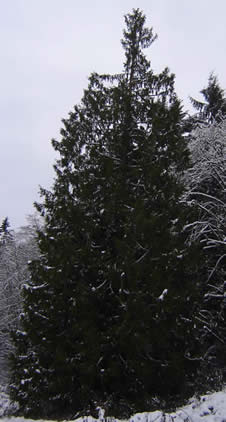 An Open Circle at our Farm on Whidbey Island
We meet one Saturday a month. Next circles: July 9 and August 13, 2016.
In my studies of shamanic herbalism, I have discovered wisdom that is not in any written books. This wisdom come directly from the earth and from the plants themselves. Come join me for this expansive adventure!
What I offer you in our Herbal Wisdom Circle:
Ancient shamanic listening practices, so simple and yet have had profound affects on those participating.

Expansive practice of listening, connecting, gathering, preparing and utilizing herbs for nourishment and healing.

Sustainable, herbal lifeways.

Herbal preparation that you made from plants you gathered yourself. You will also learn how to make other herbal preparations simply at home.

Simple ways to utilize plants for nourishment and healing.

Identifying and harvesting wild salad plants. Many of these most likely grow in your yards and gardens.

Nourishing herbal infusion and you will learn to make this at home and the great benefits.

Talking stick circle.

A gourmet whole and wild foods lunch made entirely from scratch from organic, local ingredients is provided.

An opportunity to gather with like minded folks who treasure our Earth as much as you do.
To register ~ 360-579-2319 ~ julie@crowsdaughter.com
You can pay through PayPal, over the phone with credit/debit card or by US Mail.
Mailing Address: Julie Charette Nunn, Crow's Daughter, 6560 Maxwelton Road,
Clinton, WA 98236
~~~~~~~~~~~~~~~~~~~~~~~~~~~~~~~~~~~~~~~~~~~~~~~~~~~~~~~~
This circle is an opportunity to discover your unique path with the plants.
Your inspirations will create its depth!
We gather once a month at our beautiful farm on Whidbey Island, just 10 minutes
from the Mukilteo/ Clinton ferry. Circles are from 10:30 am until 3:30 pm.
Included is a delicious, nourishing whole and wild food lunch.
~~~~~~~~~~~~~~~~~~~~~~~~~~~~~~~~~~~~~~~~~~~~~~~~~~~~~~~~
What people are saying.....
"Over the past 13 months, the Herbal Wisdom Circle has been a tremendous gift. In high school I came across this amazing truth while reading Ralph Waldo Emerson...'The greatest delight which the fields and woods minister is the suggestion of an occult relation between man and the vegetable. I am not alone and unacknowledged. They nod to me, and I to them.'And realized I was not alone in my feelings while in Nature.Being on Julie's land transported me back to my childhood in rural Maryland where I communed with Nature. And, again, I was reminded that I was not alone while regaining a piece of myself that I had unconsciously been missing terribly. My only wish is that I had had access to the knowledge that Julie so generously passed along 30 years ago when I was on the land of my childhood. Oh, how many wild roses there were!
with love, S R-L, Participant, Herbal Wisdom Circle ~13 Month Program, 2009-2010
"Julie is foremost an herbalist who offers her extensive knowledge about herbs and "weeds" on both a practical and spiritual level. As a participant in the Herbal Wisdom Circle ~ 13 Month Program, I learned how to engage freely with nature. Julie and her Whidbey Island land created an environment conducive for me and other participants to learn and heal through the wisdom of what the earth offers to us."
P.P. , Herbal Wisdom Circle ~ 13 Month Program Participant, 2009-2010
"This kind of experience is not in a book, it is in the tending of the garden, walking on your land, gathering the salad greens and passing the talking stick. Your program brings herbalism into daily life. I didn't have to 'check my life at the door' In fact it was necessary that I bring it in and let the plants have a look at it. "
Denise Paulette, completed our Women and Plants, Shamanic Herbal Apprenticeship Program
"Thank you. Thank you. Thank you. for such a beautifully sacred experience with rose.
I feel as if Rose has opened an unexpected portal in my spirit and she is beckoning me through."R.N., Seattle Therapist
"We learned about Rose through a traditional approach, while we also learned from Rose through deep attention. The immersion was both healing and enlightening."
A local Whidbey Island artist
~~~~~~~~~~~~~~~~~~~~~~~~~~~~~~~~~~~~~~~~~~~~~~~~~~~~~~~~
The Journey of the Rose
Immersion in Shamanic Herbalism
May 21, 2016 ~ Our farm on Whidbey Island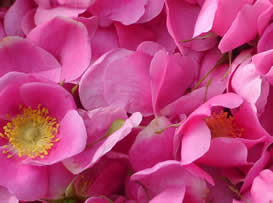 From thorny briar to delicate beauty,
come discover how rose mirrors all aspects
of human consciousness.
The Wild Roses on our land will be blooming and
will guide us as we spend time with them, listening,
making herbal preparations and acquainting ourselves
with their mysteries.
2016 Theme ~ Life is Beautiful
To register ~ 360-579-2319 ~ julie@crowsdaughter.com ~ Tuition is $175
You can pay through PayPal, over the phone with credit/debit card or by US Mail.
Mailing Address: Julie Charette Nunn, Crow's Daughter, 6560 Maxwelton Road,
Clinton, WA 98236
All meals are created from scratch from local, organic and wild food. Nourishing Herbal infusion will also be available throughout the weekend.
What you will receive when you participate:

*A personal and life changing connection with wild rose, one of our Pacific Northwest native treasures through shamanic listening.
*Herbal preparations you made yourself from wild roses on our land, including sensuous wild rose infused honey, healing wild rose infused oil and anti-viral wild rose tincture and nourishing wild rose infused honey.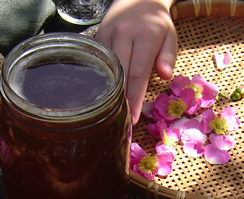 *Shamanic teachings of the plants and simple ways to continue to participate in these practices when the weekend is complete.

*A safe and powerful space to connect with who you truly are.
*Information on how wild rose nourishes and heals, including how this plant supports the immune system, reproductive system, energetic system, and nervous system.
*Connections with others in sacred space and co-created ceremony.
*Nourishing local, whole and wild food meals and nourishing herbal infusions.
*Lots of information about local medicinal plants and how to create sustainable, herbal lifeways for yourself, your family and your community.
*A special gift.
~~~~~~~~~~~~~~~~~~~~~~~~~~~~~~~~~~~~~~~~~~~~~~~~~~~~~~~~