Crow's Daughter's Earthly Goods
Local, Handcrafted, Nourishing Herbal Creations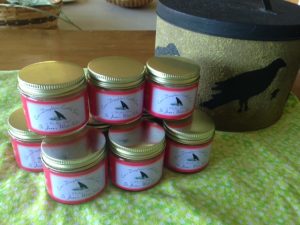 To order products, email me and let me know what you would like. I can send you a PayPal money request for the total. You may also pay over the phone with credit/debit card.
Herbal Salves and Lotions ~$15.00
St. Joan's Wort Salve:
Eases pain, help focus scattered energies, heals burns and bruises. Uplifts the spirit. A wonderful massage salve for couples. St Joan's Wort, Hypericum perforatum, buds and blossoms infused in organic olive oil and bees wax.
Ease Your Pain Salve:
Eases pain and soothes sore muscles, stiffness, arthritis and stress, supports deep relaxation.
St. John's Wort buds and flowers, Cottonwood buds, Dandelion flowers, Comfrey leaf and/or root infused in organic olive oil, essential oil of birch and local bees wax.
Persephone's Anointment:
Deeply healing for the skin as well as for nerves and muscles, this ointment will heal anything.
Cottonwood, St. Joan's Wort, Wild Rose infused in organic olive oil and bees wax.
Mama Earth Ointment:
This is a gentle and yet very effective healer for minor wounds as well as chronic skin conditions. It is incredibly softening for skin. This gentle ointment heals diaper rash quickly and completely.
Plantain leaf, Calendula blossoms, Comfrey leaf and/or root, and Wild Rose leaf and flower infused in organic olive oil and bees wax.
Herbal Lotions:
Wild Wild Rose Balm:
Gently nourishes and softens your skin, heals wounds, and opens the heart to love. This balms has been effectively healing chronic skin conditions.
A lovely face lotion. Wild Rose leaf and flower infused organic olive oil, wild rose petals infused in raw honey and bees wax.
Northwest Forest Lotion:
Calms the nerves, ease pain, good for healing minor wounds and soothing bug bite. A good massage lotion for nerves and muscles and your feet. Brings the energy of the forest to you. Douglas Fir needles, Wild Rose and a little bit of incense cedar infused in organic olive oil, filtered water and bees wax.
Dandelion Lavender Massage Lotion: A beautiful lotion for healing and moisturizing skin and also for relieving pain and moving energy. Dandelion and Lavender flowers infused in olive oil, filtered water and bees wax.
Tinctures ~ $13.00
I have a few tinctures available for $48 for 4 ounces.
The stories of the plants here are as old as the hills. There are many uses for the plants below, I have listed a few.
Osha Root-Protective for the lungs, anti-viral, so good for those that use their voice a lot.
Usnea-Anti-bacterial, remedies sinus infections and localized infections very well.
Lomatium-Anti-viral, works well to heal upper respiratory issues.
Elecampane Root-contains inulin which support healthy gut flora, good for someone with a respiratory challenge that is related to the lungs. St. Joann's Wort
St. Joan's Wort-calming support for the nervous system, pain-relieving, anti-viral, a good overall tonic for calming and focusing.
Echinacea-anti-infective, so good to use with the appearance of any infection, such a good plant to use for stopping a cold at the beginning when it is starting.
Motherwort-
Calming for anxiety and the nervous system. Also a heart tonic and uterine tonic. Very versatile for women's issues of all ages including during menopause.
Wild Rose-Anti-viral, calming for the nervous system and the heart. Rose helps us to get into the space of healing. wild rose blossom
Burdock Root-Rich in inulin which nourishes gut flora, helps heal the skin slowly but surely. A good liver tonic.
Hawthorne Flower-From our very own tree. Calms and regulates the heart. Helps us to heal from heart ache.
Hawthorne Berry-Improves circulation and gives the heart what it requires. A tonic for the blood.
Skullcap-a tonic sedative, calms an over active mind, brings peace and relieves pain.
Milky oats-calming for nervous system, very gentle and effective
Herbal Vinegar ~ $13.00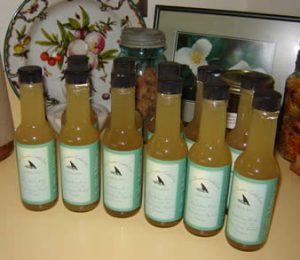 5 oz. bottles
More coming by the end of the year.
Dry Herbs:
Organic Oatstraw-$22 per pound
Organic Stinging Nettle-$22 a pound