Greetings, Lovers of the Green,
Because of our current world circumstance, it appears that our future is uncertain.  Is it?  What does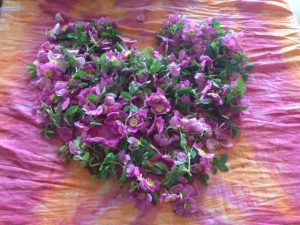 our future hold?  Who are you right now?
It is my perspective that not knowing is a very good thing right now.  To be open to the possibility of something new happening in our world…
Please take good care of yourselves.  May you find peace and well-being in your life and may healing come to those who request and require it.
The Earth is asking us to learn to live in harmony with her.  It is now my on-going quest, to ask the earth how I may do this, deeper and deeper.
I invite you to join my email list to find out about programs that may enhance your relationship with the plants and with yourself. 
On this page, I am also sharing some herbal resources for supporting a healthy immune system and for working with healing related to Covid-19.  It is my intention on this page, not to prescribe herbs for you but to offer information that will support an expansion of your ability to heal yourself.
May it be in Beauty.
Peace and Abundant Green Blessings, Julie
***Please Be Responsible for Your Own Health and Well-Being:
The Resources shared on this page are for educational purposes.  I  invite you to think outside of the box and find out what is best for you. 
Shamanic Herbalism Resources~The Plants can be quite beneficial to work with during this time.  You can ask them for wisdom.  The trees are such willing partners in helping with life challenges.  You can contact me, Julie Charette Nunn, Crow's Daughter, for ways that you can do this simply, at home, in your own landscapes, where ever you live.
• Susun Weed's Free Online course: https://www.wisewomanschool.com/p/healthy-immune-system
• Matthew Wood: https://www.matthewwoodinstituteofherbalism.com/courses/freebies
• Paul Bergner interview: https://anchor.fm/wildspirit/episodes/Paul-Bergner-Full-Interview-Bonus-eb6pvt?fbclid=IwAR2OqJZI2BEvfyb2M9WxtIgE2TWsp-sAbcV-aDBce2PqA5GpUJusBgovLtk
• Kathy Nordgren-Acupuncturist: https://youtu.be/RDNE6NPySL
• Renee Davis has a whole bunch of things to explore from herbal to unusual: https://padlet.com/ReneeDavis/zrj9majtizn3
• Elaine Sheff at Green Path Herb School in Montana writes about Anti-Viral and Immune Support Herbs:https://greenpathherbschool.com/antiviral-and-immune-support-herbs/
• Kiva Rosethorn Hardin: https://enchantersgreen.com/flu-related-respiratory-disorders?fbclid=IwAR3AhRL-IESkjbALHLsMVqVJwXhg2fueG9McUx2RIx-cWY8oGCsmKknd7jM
• Herbal Hang-outs-Linda Conroy: Wise woman herbalist, offering these online gatherings: Contact her via her email, rosemarygoddess@moonwiseherbs.com
• Larken Bruce-https://docs.google.com/document /d/1lpBv41KEclsj6vKyoJIsI26XAwVlCQN1nsxDlJqehzY/edit
• Stephen Buhner-https://www.stephenharrodbuhner.com/articles/
• Thomas Easley-https://www.eclecticschoolofherbalmedicine.com/covid-19/
• American Herbalist Guild-https://www.americanherbalistsguild.com/covid-19-resources
• Aviva Romm-https://avivaromm.com/category/covid-19/