Wild Medicine
7 Week Home Study Course in Wise Woman Healing
A testimonial:
"I finished the Wild Medicine course. That was a doozy! Thank you so much for offering that, and for the support and the insight. This class was not in the least what I expected, but entirely what I needed. I love it when the universe guides me to the right spot." E.H. Herbalist
Wild Medicine ~ Seven Week Home Study Course offers: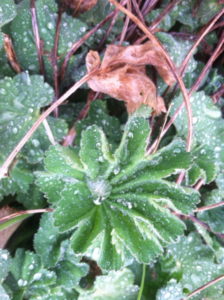 Using Susun Weed's "Seven Medicines" approach to healing, you will have an opportunity to look into a challenge you would like to heal with new eyes. (physical, emotional, mental, spiritual, financial) We will work mostly with the first four medicines, Serenity Medicine, Story Medicine, Energy Medicine and Lifestyle Medicine. These four perspectives are gentle. They are perspectives that are usually jumped over when someone embarks on a healing journey. In the Wise Woman Tradition, all healing comes through nourishing.
Shamanic listening exercises will be shared so that you may go outside to connect to nature and plants, which will offer you a new and compassionate perspective about your life.
Creative exercises will support you to see beyond what seems to be "troubling" you to what is really wanting to be expressed by you. This includes writing exercises to explore the "story medicine" related to the challenge.
Suggestions for nourishing herbs and ways to prepare food and eat will be offered so that you are vibrantly supported in all aspects of your being.
Affirming statements, the creation of healing intentions and possibility practices will support you to live the abundant, vibrant life that is available to you.
Other nourishing practices that will support each individual to release what no longer serves them and move into a more expanded way of living in well-being.
Ancient ways of exploring our bodies will be shared so that you may see into a more expanded view of consciousness.
This course is intuitively offered. I connect with my shamanic helpers, nature and the plant beings and my intuition to craft this course with the participants in mind.
This approach is not for everyone. You must be willing to be vulnerable and to be helped. This can be challenging. To look inside and see our obstacles as a road map for who we are really. This is a transformational journey.
When you enroll in this course, you will receive:
Weekly emails with assignments to guide you through the course.
Email communication with me to share your explorations and receive support and suggestions.
An opportunity to discover more about yourself and learn to support others to transform their lives.