At Home in Nature,
A Year Long Mentorship in Shamanic Herbalism
"As I've listened to the plants through all the seasons, I've gained insight for my life through their teachings"
Nature is the teacher.
Through a simple process of shamanic listening outside on the earth, you w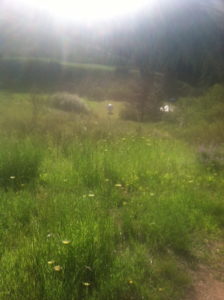 ill discover the compassionate wisdom that is near your doorstep—it is right where you live.
Seasonal qualities that bring you into a place of optimum nourishment are offered each month.
Experiencing the plants in season will tune you into the beauty that is within you. As you explore month by month, you will learn the plants that are available to harvest and prepare into simple herbal preparations.
You will find a place for yourself outside on the earth that feels like home.
What is offered in At Home in Nature:
Monthly emails with shamanic listening exercises outside on the earth, instructions for harvesting herbs where you live and herbal crafting, seasonal earth celebrations suggestions, and more.
This is a twelve month (year long) mentorship.
You can sign up at anytime of year.  Once you enroll, you will spend a year with this course, month by month.
Monthly individual sessions at our farm if you are local or on the phone if you are at a distance.
Each mentorship is personal.  Lots of wisdom is shared during monthly sessions depending on the journey of each individual.  This makes this mentorship a precious time to craft your own relationship with the plants and the earth.
The Themes for each month:
January: Invisibility, Nourishment is Invisible,
Pine Tree teaches, Evergreen Trees are Most Potent in the Dead of Winter
February: The Green of the Heart, From Invisible to Visible, Rose Becomes
Visible as Teacher, Planting Oatstraw, Cottonwood Tree
March: Nettle, Change me, Weaving the
Web of Change, Nourishing Herbal Infusion, Wild Spring Salad, Full Moon Connections.
April: Living in a Holographic Universe, Dandelion Flower Teachings, the Dancer and the Dance
May: The Journey of the Rose, Rose Teachings, Crafting with Rose
June: The Soul's Journey, Summer Solstice Plants, St. Joan's Wort

July: Satisfaction and Gratitude, Reclamation of Power, Lavender Love Stories, Gratitude for the Land
August: Receiving the Gifts of the Earth, Crafting with Herbs, Herbal Salve Making, Wonderful Weeds in Your Garden
September: Embodiment and Self Love, Being Humble, Harvesting around the Fall Equinox, Wild Rose Hips, Womb Space
October: Walking the Spiral Path, Rooting Your Story in Earth, Harvesting Roots, Burdock Teacher
November: Return to the Source and Void, Close to the Earth, Dandelion Root Medicine
December: Peace and Simplicity, One Plant at a Time, Intimacy with Plant and Self, Cedar Teachings
And more…
Tuition is $1540-Tuition includes all materials and 12, monthly, individual sessions.