I am an herbalist because of nettle.
There is nettle growing all over Whidbey Island where I live. It is abundant and wild. It's everywhere!! I have a patch growing under my Douglas fir trees and I have quite a bit growing in our garden. (Wild garden!)
Because we are social distancing, I did not have the opportunity to have my nettle weekend with apprentices and students. This has activated my desire to share more about nettle on my blog, in social media….who ever will listen. Nettle!!
People have been telling me about plants they are using to keep themselves healthy. People have been telling me about health practices that they are doing to keep viruses from getting in their bodies. And I have been thinking about my own health. I have a few challenges. And….I have my own practices that help me be grounded and present for what is mine to do.
Nettle!!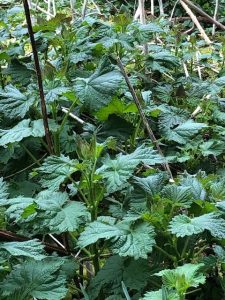 If there was a plant who's time had come, this is it and it is now!
Nettle!!
I would love to so eloquently write about nettle to you all, but what I feel is more important is to share ways to get down to the ground with nettle.
I am including links in this blog post to other writing and recordings I have done about nettle.
Stinging Nettle-Listening, Asking, Harvesting, Drying, Utilizing
Ignited in Me Was the Wise Woman
We are Wholeness-A Holographic Perspective and Nourishing the Nervous System
Spring with a Shamanic Herbalist
Check out more You Tube Nettle Videos-There are lots of them.
Nettle is the most nourishing of all plants. Nettle is about change. Nettle replenishes our energetic systems deeply without much fanfare. Nettle is food. Nettle is fierce and will sting you if you aren't paying attention. Nettle is the initiation of spring. Nettle will relieve symptoms of seasonal allergies. Nettle will relieve pain related to experience of arthritis. Nettle will change you.
Nettle activated the cellular memory in me that I am an herbalist.
What can you make with nettle:
Harvest the nettle before it flowers, in the early spring.
My favorite way to utilize nettle is to dry it and make nourishing herbal infusion.  Stinging Nettle, Nourishing Herbal Infusion is one ounce by weight of dry nettle per quart of boiling water.  I put the dry nettle in a quart jar and pour boiling water over it, let it sit over night, strain and drink.  A blog post about harvesting and drying the nettle.
Nettle infused vinegar-listen, ask, harvest, cut up small, fill a jar two-thirds full, fill to the top with apple cider vinegar, put a lid on it and let it sit for six weeks. Strain and utilize for food or put a little in water to drink. Simple.
Nettle infused honey-same as above only put raw honey over the nettle. This you can utilize if you have a sore throat. It is also very good in a cup of tea.
Nettle tincture-I make just a little bit of this because I do sell some. It isn't my preferred way to utilize it but it does work for folks that have seasonal allergies. Same as above, only put 100 proof vodka over the nettle that is cut up in the jar.
Nettle quiche-I cook the nettle for a bit, then strain and add to quiche. Simple and absolutely delicious. I want some just writing this.
Nettle soup-This is very good with leeks and potatoes.
Nettle pesto-you can google this. I am not a bit pesto fan so I don't make it.
With the nettle quiche, soup etc, harvest the nettle when it is young or the tops if it is a bit older.
When you are looking for something to support your health and well-being, you need not go very far. Nettle is right outside your door.
This is a nettle love song for Whidbey Island-If you are far away from nettle right now, close your eyes and imagine a patch of nettle in front of you. Walk into the nettle patch, breathe and say to the nettle, "Nettle, change me!"
May it be in Beauty.